"It means you like someone"
E.D. - age 6
"Love means that you really like someone and they love you back. It's like how your mom loves you and you lover her."
N.H. - age 8
"It means you respect each other and you don't disrespect other people. You treat others you want them to treat you. You respect other peoples opinions."
C.D. - age 10
"It's when you like a person a lot...and umm...an example is i love my parents."
M.G. - age 12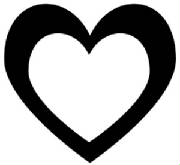 "A man holding a woman's back and a woman holding a man's back."
E.D.- age 6
"I see someone walking down the street because they love each other."
N.H.- age 8
"I see two people...wife and husband walking down and they are enjoying their time. They like to walk with...the scene is so peaceful."
C.D.- age 10
"It shows a man and a woman walking and holdeing each other...it's like a husband and wife. And they really love each other...taking a stroll down the road.."
M.G.- age 12